En artikel om hur Taylor hittade Toby till musikvideon 'MINE'
Här är en artikel om hur Taylor hittade den brittiska skådespelaren
Toby Hemingway
till hennes kommande musikvideo för '
MINE
'!
It took a bit of luck, but
Taylor Swift
found the perfect groom – for her new music video.

The singing sensation, 20, picked British-born actor Toby Hemingway, 27, to walk her down the aisle in the video for her soon-to-be-released song, "Mine," in which she plays a bride.

"I saw Feast of Love and just loved that movie and thought Toby was so great that I thought it would be perfect to put him in the video," Swift tells PEOPLE about the Los Angeles-based actor.

But it was the unexpected appearance of her lucky number that sealed the deal.

"I was doing some more research and watched another movie he was in called The Covenant," she says. "I've got this crazy 13 lucky thing, and he walks on screen for the first time wearing a sweatshirt with a 13 on it! That was the deciding factor. It wasn't really up to me, it was about the number."

The costars seem to have clicked in person, too – they were recently seen hanging out together, when Swift was in L.A. to record with an orchestra for her next album, Speak Now, due Oct. 25.

But getting married on film "was a little strange," Swift says. "I get to wear big dresses and wear white all the time on the carpet, but there's nothing quite like actually pretending you're getting married."

If the message in her song "Mine" – out Aug. 16 – is any indication, it'll probably be a long time before she's ready for the real thing. "It's a song that is about my tendency to run from love – it's been a recent tendency," she told viewers during a live Web chat Tuesday.

"Every really direct example of love that I've had in front of me has ended in goodbye, has ended in breakups," she said. "So I've developed a pattern of sort of running away when it comes time to fall in love. This song is sort of about finding the exception to that."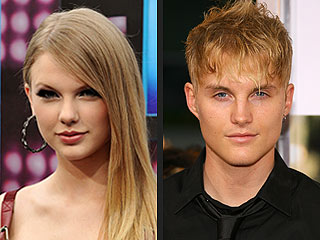 KÄLLA


- Alla negativa, opassande eller som i någon form attackerar Taylor, TSS eller läsare tas omedelbart bort.
- Intresserad av länkbyten? Kontakta TSS via mejl: taylorswiftsweden@hotmail.com.
- Det här är ingen plats för ovårdat språk - vi har unga läsare.
- Vi stödjer heller inte diskriminering, påhopp eller hat mot övriga kändisar och personer.
- Vill du tipsa om någon nyhet du sett som vi missat? Släng iväg en kommentar!
- Kommentera inte med länkar till olagligt läckt musik, film eller liknande. De kommer tas bort.
- Från och med Juni 2012 kan vi svara på era kommentarer här på TSS. Om du har frågor angående Taylor kan du alltså lämna en kommentar på sidan eller mejla oss på taylorswiftsweden@hotmail.com.
- Taylor kan inte svara på kommentarer då detta inte är hennes officiella sida.
- Vi är fyra tjejer som kämpar med att hålla hemsidan uppdaterad för er. Vi är alla studenter och gör vårt bästa. Tiden räcker inte alltid till och vi ber om ursäkt om uppdateringen inte alltid är på topp. Vi hoppas ni har förstående över detta!