Most Awarded Album in the History of Country Music
Den 17 mars hölls en privat middag för att fira Taylor!
Fearless
tillkännagavs som
Most Awarded Album in the History of Country Music
!!!
Utdrag från
här - klicka in, ni blir inte besvikna efter ni läst hela texten!


Taylor Swift's six-times-Platinum FEARLESS album was officially recognized as the Most Awarded Album in the History of Country Music last night at a private dinner in Nashville.
Taylor was also honored at last night's event for:
More than 13 Million in total record sales
More than 25 Million Digital Downloads
The 6X Platinum (6 Million) Certification of FEARLESS
FEARLESS as the #1 selling album in the US in both 2008 & 2009
The 5X Platinum (5 Million) Certification of Taylor Swift
The #1 and #2 positions atop Nielsen's BDS 2009 Top 10 Most Played Songs chart (all genres), with "You Belong With Me" and "Love Story"
The #1 spots on both the 2009 Top 10 Artist Airplay chart (all genres) and the Top 10 Artist Internet Streams chart.
Her four most recent #1 singles ("Should've Said No," "Love Story," "White Horse," and "You Belong With Me")
This week also marks Taylor's 10th consecutive Top 10 Country single, and with that she becomes the
only female artist in the 66 year history of Billboard's Hot Country Songs chart to score at least five Top 10s apiece from her first two major album releases.
Taylor is currently nominated for
four 2010 Academy of Country Music Awards
, including
Entertainer of the Year,
and tonight she returns to her home state of Pennsylvania to continue her FEARLESS 2010 Tour with the first of two sold-out shows at the Wachovia Center. Presented by American Greetings, the 40-date tour visits arenas and stadiums in 32 cities in 26 states and provinces in the US and Canada over the next 3 months.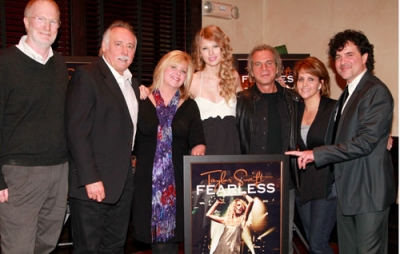 Jag får tårar i ögonen över att bara läsa hur mycket hon har åstadkommit sedan Fearless släpptes och också innan det. Jag är så glad för Taylor. Bara att se henne lycklig och att hennes drömmar har slagit in gör min dag verkligen!
Love Love Love

- Alla negativa, opassande eller som i någon form attackerar Taylor, TSS eller läsare tas omedelbart bort.
- Intresserad av länkbyten? Kontakta TSS via mejl: taylorswiftsweden@hotmail.com.
- Det här är ingen plats för ovårdat språk - vi har unga läsare.
- Vi stödjer heller inte diskriminering, påhopp eller hat mot övriga kändisar och personer.
- Vill du tipsa om någon nyhet du sett som vi missat? Släng iväg en kommentar!
- Kommentera inte med länkar till olagligt läckt musik, film eller liknande. De kommer tas bort.
- Från och med Juni 2012 kan vi svara på era kommentarer här på TSS. Om du har frågor angående Taylor kan du alltså lämna en kommentar på sidan eller mejla oss på taylorswiftsweden@hotmail.com.
- Taylor kan inte svara på kommentarer då detta inte är hennes officiella sida.
- Vi är fyra tjejer som kämpar med att hålla hemsidan uppdaterad för er. Vi är alla studenter och gör vårt bästa. Tiden räcker inte alltid till och vi ber om ursäkt om uppdateringen inte alltid är på topp. Vi hoppas ni har förstående över detta!